Paying it Forward in Memory of Steven Ottewell
I'm raising $5,000 for RMHC Canada.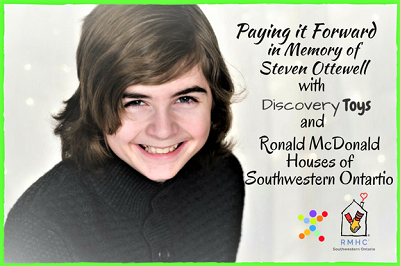 Ends: November 7, 2017
Steven Ottewell, my handsome nephew was diagnosed with a severe form of spinal cancer just before Easter this year. He spent his sweet sixteen at Victoria Hospital in London surrounded by the love of his family. This was made possible by the Ronald MacDonald Houses of Southwestern Ontario. Steven was home with his family by July of this year to spend his final weeks with his family. During that time he decided that upon his passing he would donate his gorgeous blue eyes so that someone may see. Sadly, he passed away on August 25, 2017. It is with his inspiration and with a small dose of his charitable spirit that I put forward this fundraiser. All of the families that are blessed to be able to use Ronald MacDonald Houses deserve the comforts of a home environment while remaining close to their loved one. In partnership with Discovery Toys, a high end educational (but FUN educational) toy company I ask you to give what you can spare to make my gift to RMHC a good one. Lord knows Steven's final gift was unbeatable... but this is the least I can do. Thank you so much for your donation in memory of my handsome nephew.
---
Donation History
October 10, 2017
Tracey E donated $100
October 5, 2017
Anonymous donated $50