RMHC SW Ontario Board Team - 33rd Annual Curling Bonspiel
Campaign Goal
Fundraiser Goal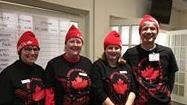 I'm raising $500 for RMHC Canada.
Ends: January 26, 2019
The RMHC-SWO Curling Bonspiel has been making sweeping fun for 33 years, while fundraising to keep families close. Proceeds support Ronald McDonald House London, the Ronald McDonald House Family Room in the Children's Hospital at LHSC, and the Windsor Ronald McDonald House in the Windsor Regional Hospital. Please support our Chapter's Board of Directors' Curling Team in this event. What we lack in curling skills we make up for in enthusiasm!
---
Donation History
January 25, 2019
Paula P donated $27
January 24, 2019
Anonymous donated $200
January 24, 2019
Susan M donated $27
January 24, 2019
Anonymous donated $27
January 21, 2019
Anonymous donated $35
January 18, 2019
R. G. Sandford Professional Corporation donated $51
Together we have raised $1,767 of our combined $5,000 goal
Teams participating in this Fundraiser