Two Wheels to Sunnyside (Graham's Calgary to Emma Lake Cycle)
I'm raising $2,000 for RMHC Canada.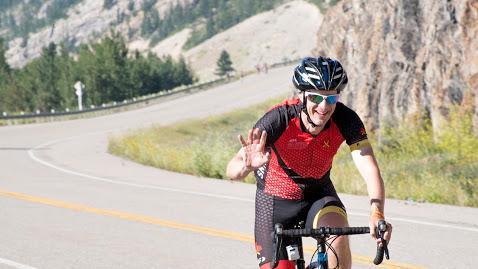 Ends: December 31, 2018
Hi, I'm Graham! Welcome to my 2018 Fundraising Page. I live in Calgary, Alberta with my wife, two teenage boys and our dog. We love to travel to Emma Lake (north of Prince Albert), SK every summer to visit with our extended family! In early August, I'll be on a self-supported cycling trip from Calgary to Emma Lake. My route will also take me to down to beautiful Waterton National Park, Writing-on-Stone Provincial Park, and then up through Medicine Hat, Leader, Outlook, Saskatoon, Prince Albert, and Shellbrook. Exciting! My Alberta ride will fundraise for the Alberta Children's Hospital - Youth Mental Health Program. As I ride through Saskatchwan, I will be fundraising for the Ronald McDonald House Family Room at the Victoria Hospital, Prince Albert. Why I am Cycling and Fundraising for the Family Room? In 2016, I was cycling with the National Kids Cancer Ride from Vancouver to Halifax when we stopped in Saskatoon and met a very special Prince Albert family with a young son (Mason) diagnosed with acute myeloid leukemia (AML). In 2017, I cycled with the National Riders from Lake Louise to Alberta Children's Hospital and once again met amazing, courageous Mason and his mom (Mason had compelted a successful stem cell transplant and was excited to return to Prince Albert). It's stories like these that show the importance of the work the Ronald McDonald House Charities is doing in Canadian communities. They were with this family every step of the way. Incredibly inspiring. The Family Room at the Prince Albert Victoria Hospital is supported by this very kind family. I am very blessed to try to help them with this cause this summer! I thank you from the bottom of my heart for any donations you can make to help the running of the RMH Family Room in Prince Albert. For more information, and to follow my ride, you can also find my website at https://grahamtait.com.