Great Lakes Family Challenge 2019
I'm raising $1,000 for RMHC Canada.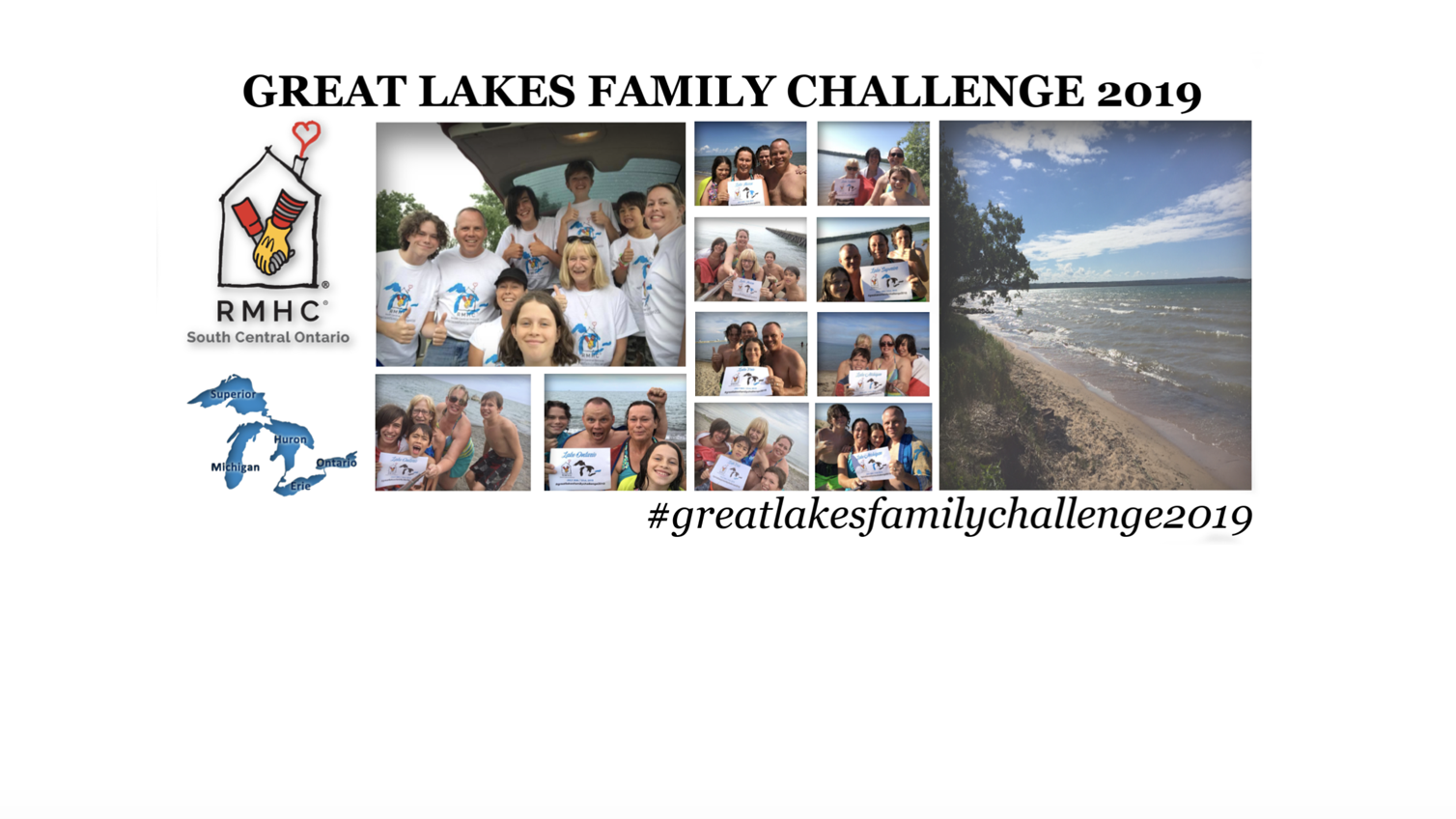 Ends: August 17, 2019
Ronald McDonald House Charities South Central Ontario (RMHCSCO) provides an emotionally supportive, comfortable and affordable home away from home for families of children who are seriously ill and being treated at McMaster Children's Hospital and other Hamilton area hospitals. As a volunteer at McMaster Children's Hospital both in the Paediatrics Ward and the NICU, I have seen how grateful families are for the amazing comfort that RMHCSCO provides. However, none of it would be possible without your help and donations. So My Family & Friends are raising money for this amazing organization by challenging ourselves to swim in all 5 great lakes in a 24-hour period. This event will take place on AUGUST 10th & 11th, 2019 You can donate here by clicking the "DONATE TO THIS FUNDRAISER" (Purple button on the right hand side of this page) Or if you'd prefer cheque or cash, please contact us directly to obtain a receipt. No amount is too great or too small and we appreciate every penny! Thank you and God Bless!
---
Donation History
September 4, 2019
Andy P donated $27
August 30, 2019
Anonymous donated $10
August 27, 2019
Kim S donated $27
August 18, 2019
Samantha B donated $51
August 16, 2019
Jessica B donated $51
August 15, 2019
Laurin M donated $27
August 15, 2019
Joanne G donated $51
August 15, 2019
Tanya F donated $100
August 15, 2019
Beth W donated $27
August 14, 2019
Yvette Y donated $51
August 13, 2019
Suzanne T donated $51
August 13, 2019
Stacey G donated $20
August 13, 2019
Anonymous donated $51
August 13, 2019
Lisa K donated $27
August 12, 2019
Naz A donated $27
August 12, 2019
Gary R donated $51
August 12, 2019
Murray H donated $27
August 11, 2019
Shari F donated $51
August 11, 2019
Nancy D donated $27
August 11, 2019
The S donated $51
August 10, 2019
Colleen C donated $27
August 10, 2019
Jacqui S donated $25
August 10, 2019
Shari F donated $50
August 10, 2019
Serge A donated $51
August 10, 2019
Marlene K donated $27
August 10, 2019
Stephen U donated $124
August 10, 2019
Hazel A donated $27
August 9, 2019
Paul L donated $27
August 9, 2019
Nancy P donated $51
August 9, 2019
Christine L donated $10
August 9, 2019
Benjamin M donated $27
August 9, 2019
Corinne C donated $27
August 9, 2019
Mark N donated $27
August 9, 2019
Donna T donated $100
August 9, 2019
Kathleen S donated $27
August 8, 2019
Linda J donated $51
August 8, 2019
Szasza P donated $27
August 8, 2019
Kelly W donated $27
August 8, 2019
Kendra C donated $27
August 8, 2019
Laurie W donated $100
August 8, 2019
Melissa B donated $10
August 8, 2019
Anonymous donated $27
August 8, 2019
Kelly S donated $27
August 8, 2019
Teri G donated $51
August 8, 2019
Kelly P donated $25
August 8, 2019
DonnaMarie T donated $51
August 8, 2019
Erin W donated $124
August 8, 2019
Don D donated $51
August 7, 2019
Nancy W donated $51
August 7, 2019
Gerry I donated $51
August 5, 2019
Carolan T donated $50
August 5, 2019
H--D E donated $51
August 5, 2019
Veronica G donated $15
August 4, 2019
Julia J donated $50
July 19, 2019
Jeanette O donated $10