I'm raising $1,000 for RMHC Canada.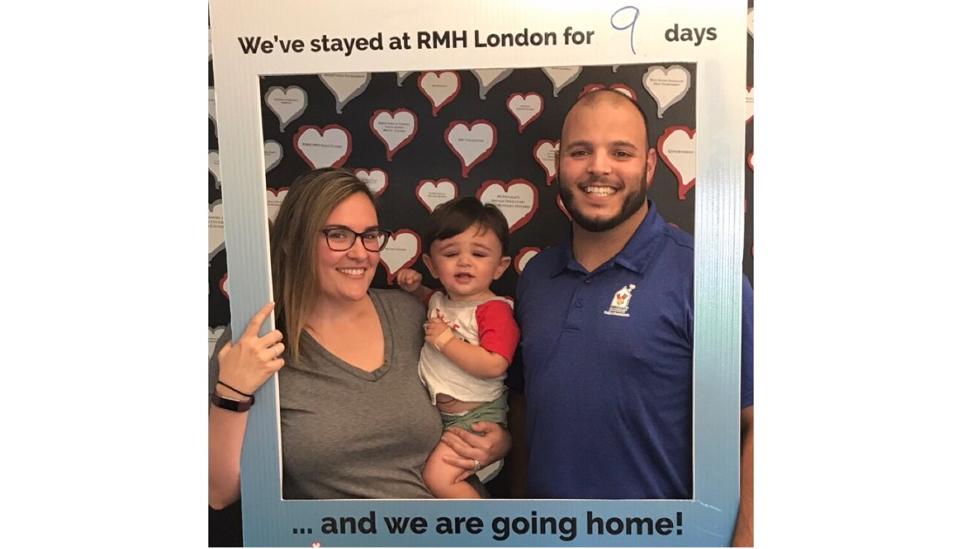 Ends: August 28, 2019
Our son Henry had major surgery at the London Children's Hospital this July. Ronald McDonald House was able to help keep us close to our son who needed us by his side. They offered us more than just accommodations and food - they gave us comfort at one of the most stressful times in our life. We want to give back to our RMH family but providing other families like ours the opportunity to stay in the home. We met many families during our hospital stay who leaned on RMH and we want to ensure they are able to keep providing the comforts of home for years to come! Our goal of $1000 would help to house a family for 8 nights - the same number of nights our family needed!
---
Donation History
August 13, 2019
The G donated $27
August 12, 2019
Anita M donated $100
August 3, 2019
Maddalena L donated $100
August 3, 2019
VittorioMariaLuisa L donated $400
August 1, 2019
Mary C donated $27
July 31, 2019
Mrs S donated $51
July 31, 2019
Tracy H donated $50
July 31, 2019
Anonymous donated $1
July 30, 2019
Celesta G donated $27
July 30, 2019
Quinn N donated $51
July 30, 2019
Tony Blaks - Union Bakery donated $100
July 30, 2019
Lainey M donated $60
July 30, 2019
Laurel Y donated $124
July 30, 2019
Debbie T donated $100
July 29, 2019
Sandra G donated $50
July 29, 2019
Andrew C donated $27
July 29, 2019
Paul H donated $50
July 29, 2019
Lori C donated $27
July 29, 2019
Gina T donated $51
July 29, 2019
Giulia B donated $27
July 29, 2019
Anonymous donated $27
July 29, 2019
Stephanie Y donated $51
July 29, 2019
The S donated $51
July 29, 2019
Michael D donated $100
July 27, 2019
Christine P donated $51
July 27, 2019
Mitchell F donated $100
July 26, 2019
Morgan P donated $51
July 26, 2019
Matt Y donated $124
July 26, 2019
Lindsay W donated $27
July 26, 2019
Shay F donated $50
July 26, 2019
Anonymous donated $5
July 26, 2019
Matthew W donated $124
July 26, 2019
Allyssa L donated $51
July 26, 2019
Renee F donated $378
July 26, 2019
Rami K donated $124