Financial Statements
Operating a large and growing organization in an increasingly complex environment means that more than ever, we rely on our partners and donors to help us deliver on our mission. We take tremendous care to ensure we remain responsible stewards of the donations entrusted to us.
Learn more about our financial position by reading our most recent audited financial statements.
Registered Charity Information Return
RMHC 2nd Family Togetherness Survey
RMHC's 2nd Family Togetherness Survey (Ipsos, 2019) asked 2,013 Canadian parents how they felt about their family life – from their overall satisfaction, to how they spend their time together. We found that as a whole, Canadians put a high value on family time, but due to increasing pressures of money and time, Canada's definition of family time is changing.
Here are Some of the
Highlights of the Survey
91% of Canadian parents are satisfied with their family life.
Canadians recognize the value of strong family relationships and quality time together on their satisfaction with family life – 72% of Canadians chose strong relationships with their kids as the #1 reason they were satisfied with their family life, while 62% chose spending quality family time together as the top contributor to family life satisfaction. Those who were satisfied with their family life spend on average 7 hours more a week together as a family than Canadians who weren't satisfied with their family life.
Mealtimes are the #1 way that families spend time together.
42% of parents said having meals together was the most important activity for keeping their family close, and those who agree they spend quality time together are more likely to mention having meals together. Canadians also reported that the importance of having meals together as a family increased as children grew older; 46% of parents with children aged 13 – 17 said that having dinner together was the most important activity to keep their families close, compared to 37% of parents with children aged 5 and under.
Technology is changing the definition of quality family time.
Three out of four Canadians (76%) watch movies or videos as part of family quality time together, while 39% of parents with kids aged 3-12 say that gaming together is a way they spend quality time. As technology becomes more ingrained into our daily lives, families will continue to adapt with the times.
Want to know more?
Find the full survey results here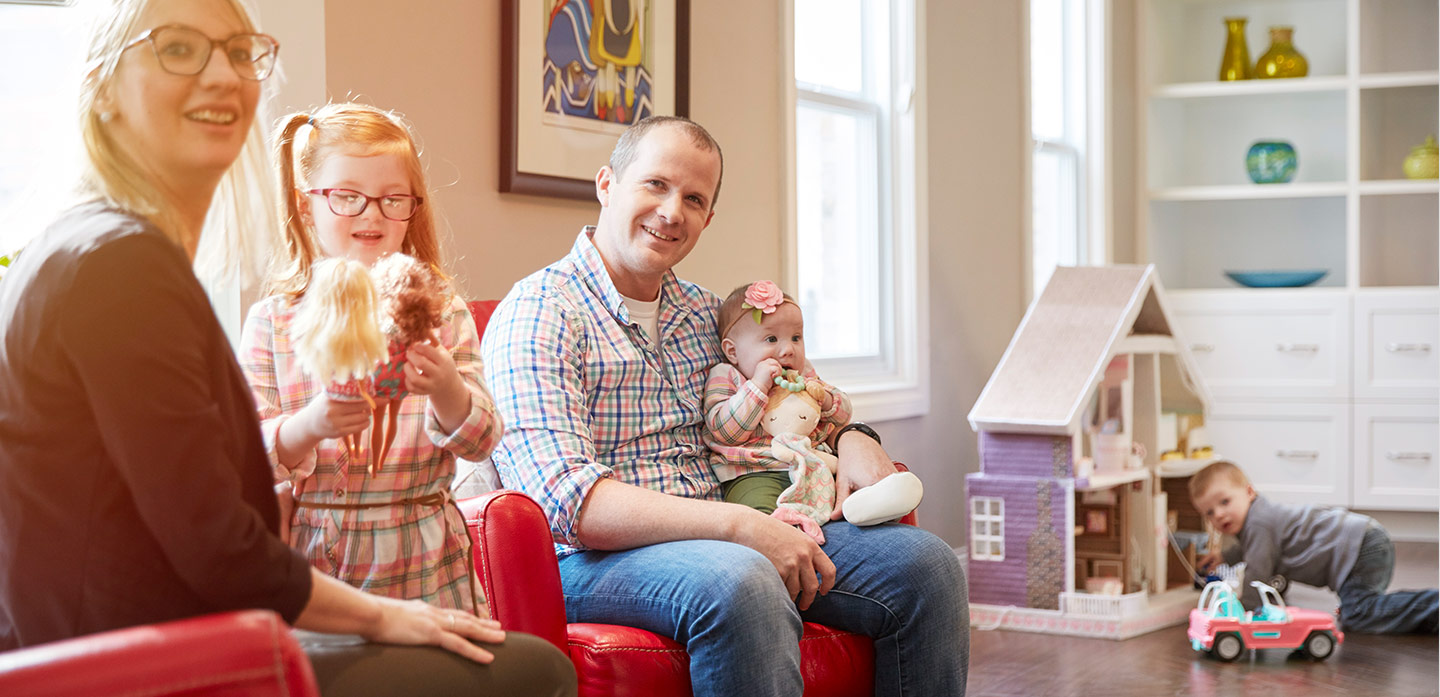 Expert Tips to Make the Most out of Your Family Time Together
For most, spending time together doesn't cost a dime; eating meals together, watching movies or videos and engaging in play are reported in RMHC's Family Togetherness Survey as the most common ways that families spend time together. The Survey experts cite several benefits to children and parents who regularly participate in these rituals and traditions and offer tips for families to make the most of that time.
Nourish Strong Bonds at the Family Table
There isn't a magic number of family meals you should eat together but the benefits increase every time you gather as a family. When parents sit down with their children, it creates another opportunity to connect and form strong family bonds. Learn expert tips to get your clan to the table as often as possible. Learn expert tips to get your clan to the table as often as possible.
Make Screen Time Engaging and Fun
With busy schedules at work, school, parents and children alike are looking to relax and choosing to watch television, movies and videos. As digital technologies insert themselves into every aspect of our lives, is there a reason to be worried that family time will fade away? Find ways to make this time engaging and fun. Find ways to make this time engaging and fun.
While spending time together is important to all families in Canada, family time becomes all the more precious when you have to travel far from home for your sick child's treatment. In Canada, 65% of families live outside a city with a children's hospital, and have to travel for treatment if their child becomes sick. That's why Ronald McDonald House Charities gives families a place to stay together close to the hospital where their child is being treated.
Meet the Garniss Family.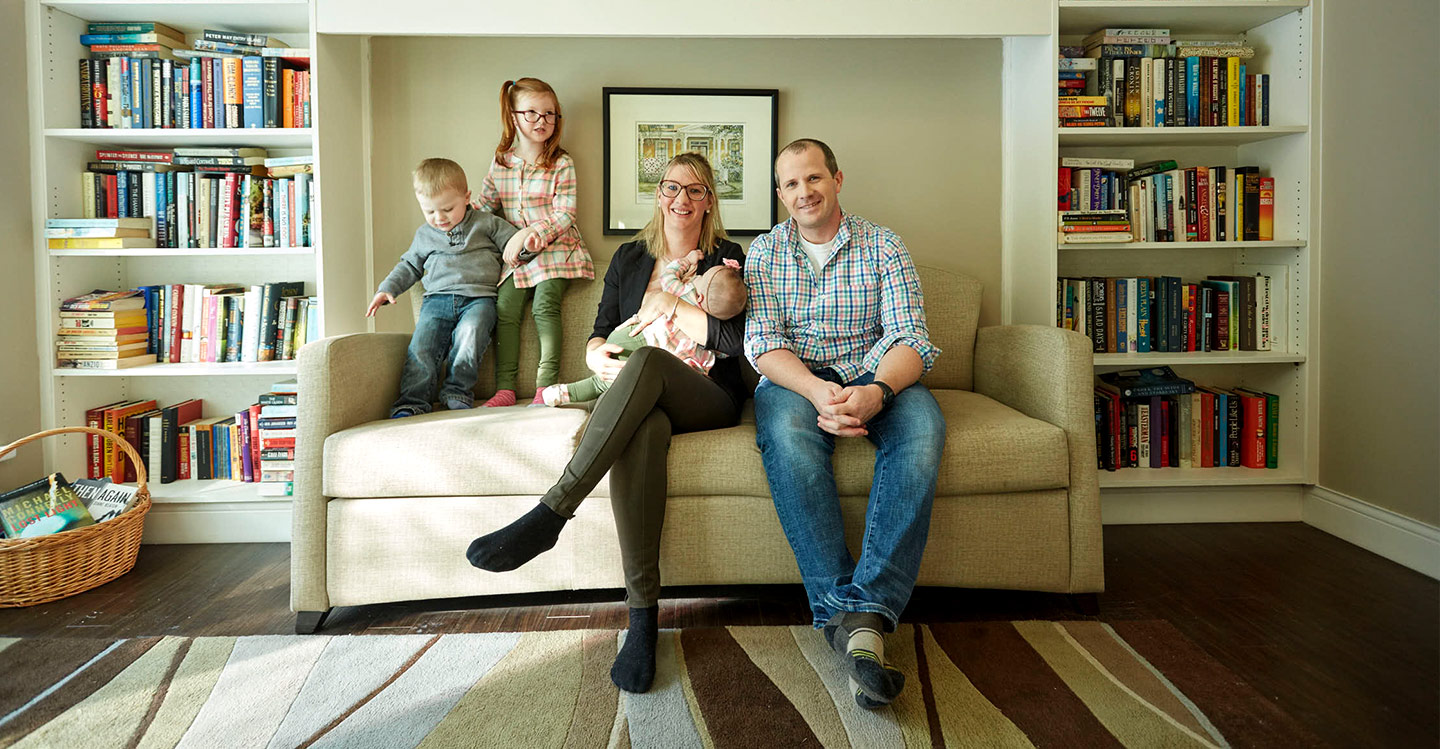 The Garniss Family stayed at Ronald McDonald House Southwestern Ontario for 35 nights. When Lauren, now six months old, was born with bowel obstruction and had to be rushed to the hospital over an hour away from her hometown for life-saving surgery, her mom and dad stayed just steps from her bedside at Ronald McDonald House Southwestern Ontario. "Staying at Ronald McDonald House meant that when we needed to rest or eat, we could have a warm and welcoming place to go to that was literally a minute away from the hospital," says Lauren's mom Kim. Family time becomes all the more precious when you are far from home and the mom of three says, "at Ronald McDonald House, I could be somewhat normal with my family and sit together and eat and play with the kids. I had no idea you could feel this warmth when you're going through such struggle. It's a family here—it is truly a home away from home." Now that Lauren is no longer in the hospital and life with three kids is 'back to normal,' Kim and her husband Mike say, "for our family, 'being together' means living in the present moment when all five of us are in the same place laughing, loving and sharing each other's experiences. We know that time is precious and our time together reminds us that that we can count on each other and that we are all together to respect and help each other when needed." Last year, Ronald McDonald Houses and Family Rooms helped keep 25,250 families close to their sick child. Find Our Impact here.
Meet More RMHC Families
From RMHC® Families to Yours, Thank You!
You may not know it, but chances are that you've helped over 25,000 families staying at Ronald McDonald Houses and Family Rooms this year by visiting a McDonald's® restaurant – and that deserves a thank you so big that it had to be shared through song! RMHC families teamed up with community choir, Choir! Choir! Choir! to share their gratitude.
How Your Support Helps RMHC Families
RMHC's support of families with a sick child is made possible thanks to Canadians' generous donations to RMHC. Every day Canadians visit McDonald's restaurants and take the time to make a difference for families with sick children by:
While each donation may be small individually, collectively, they all add up to make a powerful and meaningful difference for families in need. Thank you for your support!
Meet Some of the Families Who Appear in the Video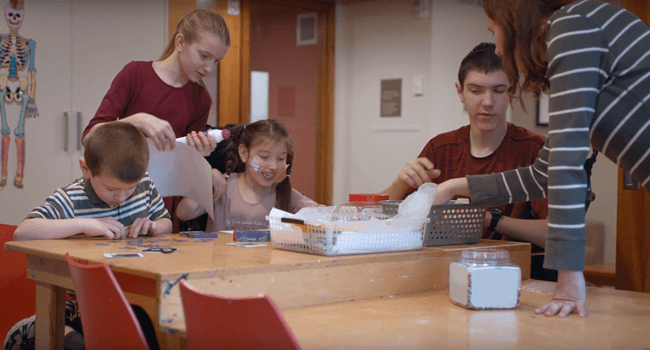 Warder Family
In August 2017, Rejeanne and Justin Warder moved their family with four children more than 350kms from their home in Southern Ontario to Ronald McDonald House in Toronto. McKayla, their seven-year-old and second youngest, needs a heart transplant to save her life and it can only be done in Toronto. "So, we came here to wait," says Rejeanne. "We expected it to be a year but it's well beyond that now. If the last seven years have taught us anything, it's that McKayla is a fighter. And, she's strongest when she's surrounded by her entire family." The programs and services at RMHC Toronto ensure that everyone in the Warder family gets what they need. "And more than anything else, what my family needs is to be together," adds Rejeanne. "Without the support of RMHC Toronto, we would lose our house. We would have nothing. RMHC Toronto makes the burden we have to bear less stressful and we are grateful for everyone's support who makes this possible. Thank you!"
Read more about the Warder family here.
Collins Family
Emma Collins was first diagnosed with leukemia in May 2015 when she was just 14 years old. "I was immediately rushed to the hospital and was admitted for three months," she says. "This was hard on me, but also hard on my family as they needed a place to live in Toronto while I was at the hospital receiving chemo. We got a room at RMHC Toronto and it really helped. It was no more than a five-minute walk to and from the hospital, so I knew my parents were always close when they were catching up on sleep or getting a meal at the House." In May of 2018, Emma and her family were back at the House when she relapsed and needed a bone marrow transplant. "If I had to be anywhere other than home," she says, "I wanted to be at Ronald McDonald House." "Ronald McDonald House provided my family and me with a sense of normalcy which is all I could've really asked for during such a complicated time in my life. I really couldn't be more thankful. It really is a great place where I can still feel comfortable if I'm not feeling or looking my best."
Read more about Emma's experience here.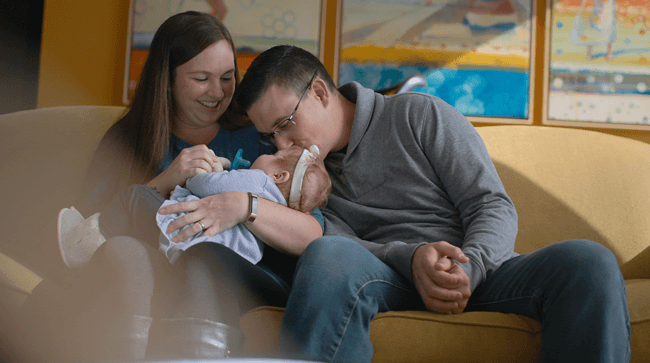 Audia Family
The Audia family stayed at Ronald McDonald House Toronto for 170 nights while their infant daughter Rosalie was waiting for a heart transplant. Samantha, Rosie's mom, says "Being at Ronald McDonald House with my other young children means that we could be close to Rosie in the hospital but also the House gave them and us a just that break away from the intensity of being in a critical care unit surrounded by sick kids and beeping machines." "They just take such good care of you here," Samantha insists. "Sometimes I would leave the hospital at night for the short walk back to the House and I would be feeling down. And then I would see the House, with the lights on just like mom used to do at home when we were teenagers. When you come in, the front desk tells you there's food in the fridge and if you need to talk to someone, there's staff at the front desk or families in the kitchen. It's a place where you can let it all out and be yourself." "It's a steady for our family in a turbulent time," adds Brian, Rosie's dad. Rosie is now at home with her family and recovering with the support of her big sister, brother and their whole community
Meet More RMHC Families
Pages