From RMHC® Families to Yours, Thank You!
You may not know it, but chances are that you've helped over 25,000 families staying at Ronald McDonald Houses and Family Rooms this year by visiting a McDonald's® restaurant – and that deserves a thank you so big that it had to be shared through song! RMHC families teamed up with community choir, Choir! Choir! Choir! to share their gratitude.
How Your Support Helps RMHC Families
RMHC's support of families with a sick child is made possible thanks to Canadians' generous donations to RMHC. Every day Canadians visit McDonald's restaurants and take the time to make a difference for families with sick children by:
While each donation may be small individually, collectively, they all add up to make a powerful and meaningful difference for families in need. Thank you for your support!
Meet Some of the Families Who Appear in the Video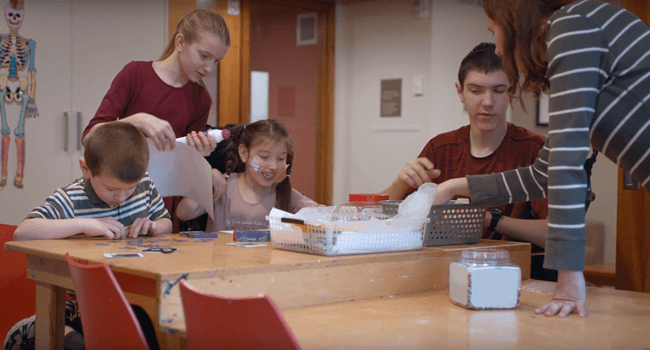 Warder Family
In August 2017, Rejeanne and Justin Warder moved their family with four children more than 350kms from their home in Southern Ontario to Ronald McDonald House in Toronto. McKayla, their seven-year-old and second youngest, needs a heart transplant to save her life and it can only be done in Toronto. "So, we came here to wait," says Rejeanne. "We expected it to be a year but it's well beyond that now. If the last seven years have taught us anything, it's that McKayla is a fighter. And, she's strongest when she's surrounded by her entire family." The programs and services at RMHC Toronto ensure that everyone in the Warder family gets what they need. "And more than anything else, what my family needs is to be together," adds Rejeanne. "Without the support of RMHC Toronto, we would lose our house. We would have nothing. RMHC Toronto makes the burden we have to bear less stressful and we are grateful for everyone's support who makes this possible. Thank you!"
Read more about the Warder family here.
Collins Family
Emma Collins was first diagnosed with leukemia in May 2015 when she was just 14 years old. "I was immediately rushed to the hospital and was admitted for three months," she says. "This was hard on me, but also hard on my family as they needed a place to live in Toronto while I was at the hospital receiving chemo. We got a room at RMHC Toronto and it really helped. It was no more than a five-minute walk to and from the hospital, so I knew my parents were always close when they were catching up on sleep or getting a meal at the House." In May of 2018, Emma and her family were back at the House when she relapsed and needed a bone marrow transplant. "If I had to be anywhere other than home," she says, "I wanted to be at Ronald McDonald House." "Ronald McDonald House provided my family and me with a sense of normalcy which is all I could've really asked for during such a complicated time in my life. I really couldn't be more thankful. It really is a great place where I can still feel comfortable if I'm not feeling or looking my best."
Read more about Emma's experience here.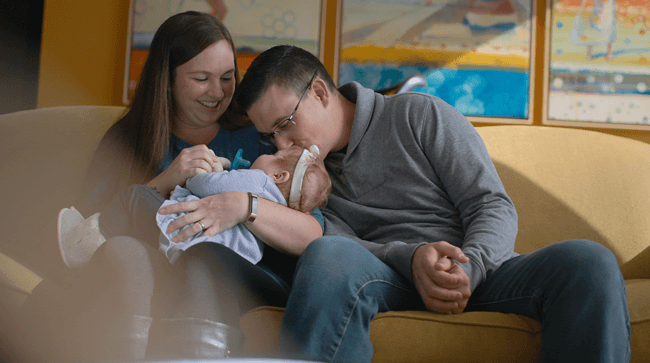 Audia Family
The Audia family stayed at Ronald McDonald House Toronto for 170 nights while their infant daughter Rosalie was waiting for a heart transplant. Samantha, Rosie's mom, says "Being at Ronald McDonald House with my other young children means that we could be close to Rosie in the hospital but also the House gave them and us a just that break away from the intensity of being in a critical care unit surrounded by sick kids and beeping machines." "They just take such good care of you here," Samantha insists. "Sometimes I would leave the hospital at night for the short walk back to the House and I would be feeling down. And then I would see the House, with the lights on just like mom used to do at home when we were teenagers. When you come in, the front desk tells you there's food in the fridge and if you need to talk to someone, there's staff at the front desk or families in the kitchen. It's a place where you can let it all out and be yourself." "It's a steady for our family in a turbulent time," adds Brian, Rosie's dad. Rosie is now at home with her family and recovering with the support of her big sister, brother and their whole community
Meet More RMHC Families