Merv's Marathon for RMHC-SWO
I'm raising $5,000 for RMHC Canada.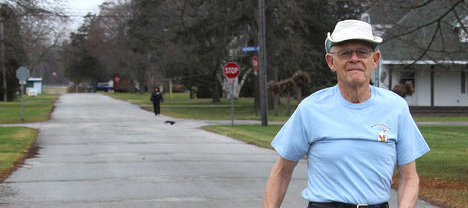 Ends: November 20, 2016
Mervin is making his steps count on his 80th birthday by walking a marathon that will help keep families with seriously ill children close. The 27 miles Merv is going to walk will make this birthday a milestone to remember in honour of his great, great niece, Brianna. Merv has been preparing for this special cerebration by raising pledges, staying active and spreading awareness about the charity he holds dearly - Ronald McDonald House! Everyone is welcome to come out on November 19th to cheer Merv on and enjoy a penny raffle from 11am - 2pm at the St. Clair College HealthPlex. Please consider making a donation and sharing this page with your friends to help him reach his fundraising goal!
Event Details
November 19, 2016 | 07:00 am
1001 Grand Avenue West
Chatham ON N7M 5W4
Canada
---
Donation History
November 21, 2016
Andra M donated $50
November 20, 2016
Bruce P donated $250
November 20, 2016
David C donated $100
November 20, 2016
Jennifer P donated $26.2
November 20, 2016
Ryan P donated $25
November 19, 2016
Janine E donated $25
November 19, 2016
Heather S donated $50
November 19, 2016
Janiceandpat B donated $50
November 19, 2016
Meg J donated $25
November 19, 2016
Chris W donated $75
November 19, 2016
KenandDaphne J donated $100
November 19, 2016
KAREN K donated $25
November 19, 2016
Mark D donated $155
November 19, 2016
Diana P donated $25
November 19, 2016
Jennifer J donated $25
November 19, 2016
Battery Boy donated $1000
November 19, 2016
Sarah P donated $50
November 18, 2016
Pat M donated $25
November 18, 2016
Jenne W donated $25
November 18, 2016
Melanie K donated $25
November 18, 2016
Sheila S donated $25
November 18, 2016
Debbie B donated $25
November 18, 2016
Janice P donated $50
November 18, 2016
Anonymous donated $25
November 18, 2016
Anonymous donated $25
November 18, 2016
Anonymous donated $100
November 17, 2016
BMO - Bank of Montreal - Bothwell donated $50
November 17, 2016
Anonymous donated $25
November 17, 2016
Marcie M donated $25
November 17, 2016
Marcie M donated $25
November 17, 2016
Matt M donated $25
November 17, 2016
Anonymous donated $25
November 16, 2016
Patty W donated $25
November 16, 2016
PhilSue A donated $155
November 16, 2016
Adam W donated $25
November 16, 2016
Liz H donated $25
November 16, 2016
Debrah P donated $25
November 16, 2016
Jenny A donated $50
November 16, 2016
Anonymous donated $5
November 16, 2016
Richele M donated $25
November 16, 2016
Alysson S donated $25
November 15, 2016
Dr John W Parks donated $500
November 15, 2016
Sherry F donated $155
November 15, 2016
Cory M donated $25
November 14, 2016
Terrell W donated $25
November 12, 2016
Brenda M donated $50
November 11, 2016
Harold J donated $50
November 11, 2016
Attie D donated $25
November 11, 2016
Brian J donated $20
November 10, 2016
Vonda D donated $50
November 9, 2016
Mary M donated $25
November 8, 2016
Glenna S donated $25
November 7, 2016
Mike M donated $10
November 7, 2016
George G donated $100
November 7, 2016
Graham C donated $25
November 6, 2016
Kim G donated $70
November 6, 2016
Daniel H donated $50
November 6, 2016
Kim G donated $25
November 6, 2016
Erin M donated $50
November 5, 2016
Vaughn C donated $25
November 5, 2016
Debbie D donated $50
November 3, 2016
Fran M donated $25
November 2, 2016
Anonymous donated $25
October 28, 2016
Magdalena M donated $25
October 26, 2016
Rick B donated $50
October 24, 2016
Patti I donated $155
October 24, 2016
Brad I donated $100
October 24, 2016
Bethany M donated $100
October 21, 2016
Maryann K donated $25
October 20, 2016
Paul C donated $25
October 20, 2016
Margaret H donated $100
October 20, 2016
Eldon C donated $25
October 20, 2016
Sharron C donated $155