RMHC Keeps Families Close
Did you know that 70% of Canadian families live outside a city with a children's hospital? So when a child gets sick, they often have to travel hours to get treatment. Our 15 Ronald McDonald Houses across Canada give families a place to stay close to the hospital where their child is being treated. 16 Ronald McDonald Family Rooms located in hospitals across the country give families a place to rest and relax just steps from their child's bedside.
How we help
Ronald McDonald Houses provide families of sick children with a home to stay at while their child is being treated at a nearby hospital. Ronald McDonald Family Rooms also provide a comfortable place for families to rest and recharge, right inside hospitals. And through Ronald McDonald Care Mobiles, we help to bring basic medical care to vulnerable communities. So families can stay together and kids can heal better.
Find us
Meet some of the families that have stayed with us
RMHC Southern Alberta
The Mitchell Family
With their oldest daughter in and out of the hospital, the Mitchells found a deep appreciation for their time spent at the House playing Bingo, celebrating birthdays, and most of all, being together.
Learn More
RMHC Southern Alberta
The Chikuse Family
During her treatment, Tanya and her family stayed over 220 nights...
Learn More
RMHC Southwestern Ontario, London House
The Walsh Family
Thanks to the Ronald McDonald House, Michelle Walsh was able...
Learn More
Being together changes everything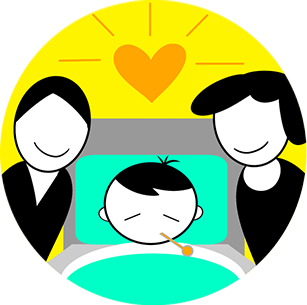 Research shows that when families stay together, kids heal better