Xavier and Elliott's 1st Birthday
I'm raising $200 for RMHC Canada.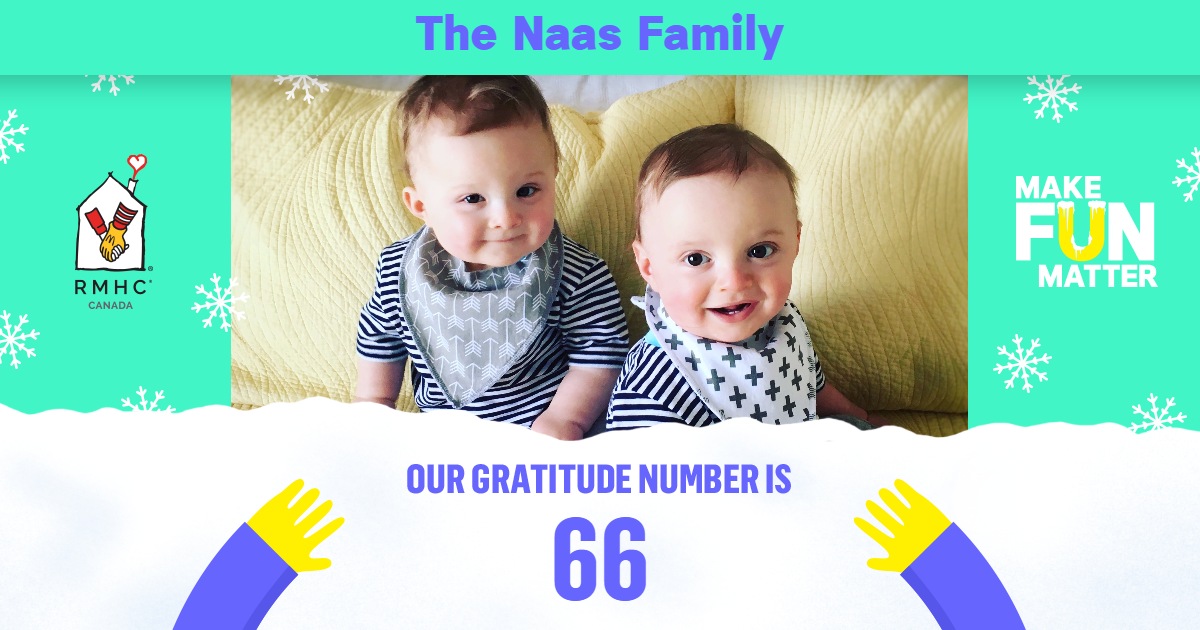 Ends: May 10, 2017
The Ronald McDonald House holds a special place in our hearts. Our family spent almost a month at the Edmonton RMH last July when our little Elliott had open-heart surgery at just two months old. The Ronald McDonald House provided us with our own room, daily meals, shuttles to and from the hospital, but most of all they provided us with a home away from home at the most difficult time in our lives. I will never forget the families that we met there and the brave kids battling illnesses that no child should have to endure. We are forever grateful to the RMHCNA and we will always be looking for ways to give back to this amazing organization. Monique, Dennis, Xavier & Elliott.
---
Donation History
May 23, 2017
Sarah C donated $50
May 10, 2017
Tonya D donated $25
May 10, 2017
Susan C donated $25
May 9, 2017
Ryan C donated $40
May 7, 2017
KevinAndSarah C donated $25
May 7, 2017
Joan G donated $50
May 7, 2017
Amanda N donated $25
May 7, 2017
Lorne M donated $50
May 7, 2017
Dennis H donated $25
May 7, 2017
Erin M donated $50
May 7, 2017
AimeeandBrian P donated $50
May 6, 2017
Doreen P donated $25
May 6, 2017
Nancy T donated $50
May 5, 2017
Paulashelley S donated $50
May 4, 2017
Robert P donated $60
May 3, 2017
Vanessa S donated $25
May 2, 2017
KristinaDarrenandCelia K donated $40
May 2, 2017
Evan M donated $100
May 2, 2017
Misty F donated $25
May 2, 2017
Monique N donated $50
May 2, 2017
Paul S donated $50
May 2, 2017
Paul S donated $50
May 2, 2017
Cassie N donated $25
May 2, 2017
Tara F donated $50
May 1, 2017
Shane J donated $100
May 1, 2017
Chelsea F donated $50
May 1, 2017
Kelly L donated $20