The Ronald McDonald House Drive Across Canada
I'm raising $20,000 for RMHC Canada.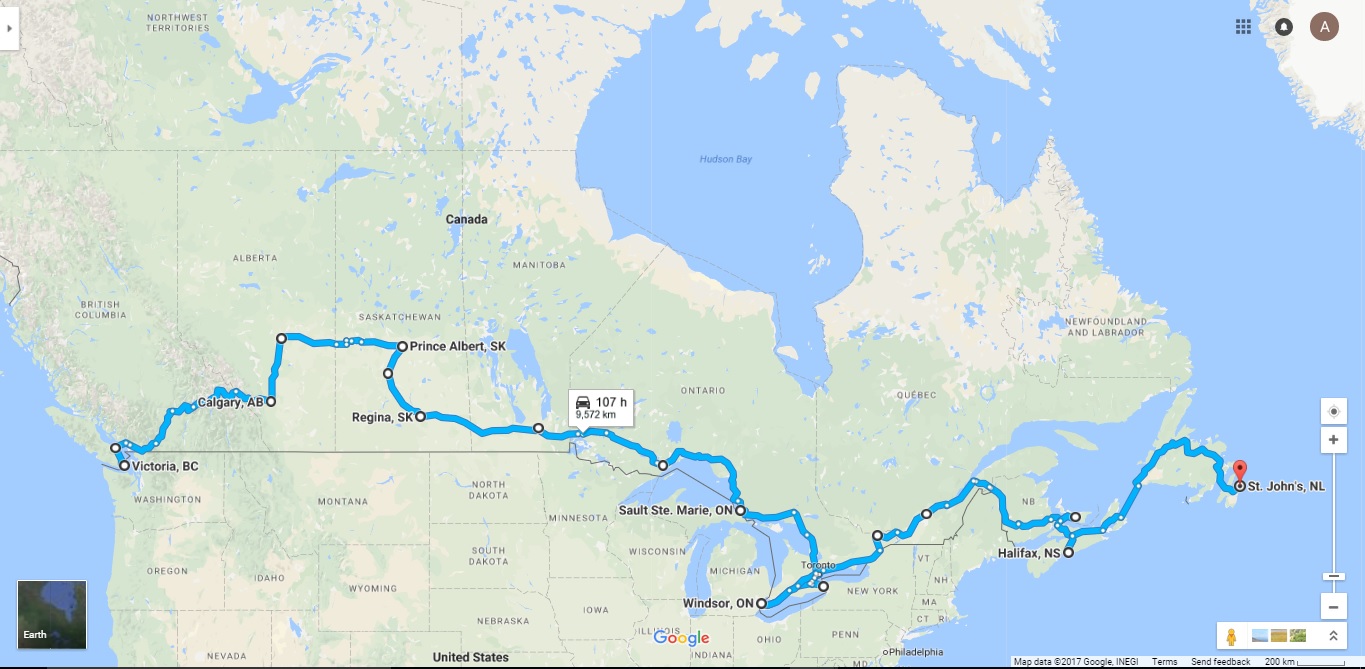 Ends: September 30, 2017
Our journey across Canada on her 150th anniversary will span over 23 days, beginning in Victoria, British Columbia on August 18, 2017, and concluding in St. John's, Newfoundland on September 9, 2017. We will be driving about 10,000 kilometres (6,214 miles) from coast-to-coast, visiting all 15 Ronald McDonald Houses and 16 Ronald McDonald Family Rooms, to raise funds for the benefit of families supporting sick children at Ronald McDonald House. I, Alex, am making a personal pledge to donate $1 for every kilometre traveled during this journey. You are invited to follow us on our blog (www.inyoutogive.com) where we will share updates and stories on each day of our drive. Thank you for your kind support.
---
Donation History
September 17, 2017
Anonymous donated $150
September 13, 2017
Anonymous donated $2000
September 11, 2017
donated $10435
September 8, 2017
Anonymous donated $10
September 6, 2017
Anna S donated $50
September 3, 2017
Jean-Felix B donated $25
September 1, 2017
Manjit S donated $50
August 31, 2017
Susan C donated $100
August 30, 2017
John B donated $1000
August 30, 2017
Lesley K donated $25
August 30, 2017
Pamela B donated $20
August 29, 2017
Elyssa M donated $50
August 29, 2017
Anonymous donated $25
August 28, 2017
Debbie B donated $25
August 28, 2017
Allison G donated $50
August 28, 2017
Bradley S donated $18
August 28, 2017
Denise F donated $25
August 28, 2017
Raymond C donated $200
August 28, 2017
Heather M donated $120
August 28, 2017
Barry B donated $50
August 28, 2017
Danny B donated $25
August 26, 2017
Anonymous donated $25
August 23, 2017
Melissa B donated $100
August 22, 2017
McDonald's Restaurants of Canada Limited donated $1000
August 22, 2017
Anonymous donated $50
August 22, 2017
Lori W donated $50
August 21, 2017
Wendy G donated $100
August 21, 2017
Tina L donated $25
August 21, 2017
Angela Y donated $100
August 21, 2017
Tong L donated $100
August 21, 2017
BRIAN V donated $500
August 21, 2017
JANE F donated $200
August 19, 2017
Lindy Z donated $25
August 15, 2017
MICHEL M donated $500
August 10, 2017
Toru L donated $50
August 8, 2017
Lea C donated $177
August 3, 2017
Hayley R donated $20
July 26, 2017
Rene D donated $177
July 17, 2017
Vicki V donated $20
July 17, 2017
Yashoda R donated $20
July 17, 2017
Al A donated $50
July 9, 2017
Janice L donated $25
July 3, 2017
DR. RICK WONG OPTOMETRY CLINIC donated $300
July 3, 2017
Sir Sandford Fleming Elementary School donated $400
July 3, 2017
Walter Moberly Elementary School donated $340
July 3, 2017
Musica C donated $100
June 28, 2017
Adam P donated $500
June 26, 2017
Shannon K donated $100
June 26, 2017
Victor L donated $200
June 26, 2017
Wayne W donated $50
June 26, 2017
Rosemary M donated $100
June 26, 2017
Kelly M donated $50
June 24, 2017
Amy J donated $100
June 24, 2017
Cathy Z donated $50
June 23, 2017
Elizabeth E donated $50
June 22, 2017
Shamim B donated $100
June 21, 2017
Jerry W donated $150
June 21, 2017
Janet M donated $100
June 21, 2017
Gina W donated $100
June 8, 2017
Jim R donated $100
June 4, 2017
sylvia s donated $50
June 4, 2017
Jenny W donated $500
May 31, 2017
Amy L donated $100
May 28, 2017
Cynthia C donated $500
May 23, 2017
Jacinta C donated $150
May 23, 2017
Jacinta C donated $50
May 23, 2017
Ann H donated $100
May 21, 2017
Jane T donated $500
May 20, 2017
Monika H donated $250
May 18, 2017
Bow W donated $100