I'm raising $500 for RMHC Canada.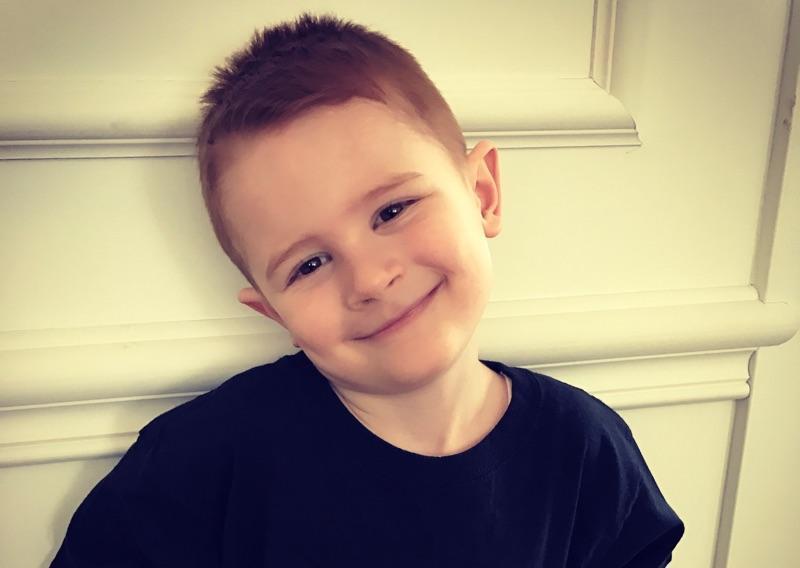 Ends: December 31, 2017
The face you are looking at is that of Jakob Baric. He is a son, grandson, a brother, a nephew, a Godson: a wonderful little boy. He is also currently waiting for a heart-transplant and in the process his family is indebted to the Ronald McDonald House Charity for their support. Jake suffers from a condition called "CC-TGA Congenitally Corrected Transposition of the Great Arteries." Jake has a large Ventricular Septal Defect (VSD), Ebstein's anomaly, Pulmonary Stenosis, and a severely leaky tricuspid valve. Jake is currently "waiting for the call" when he can finally receive a heart-transplant and hopefully relieve the conditions relayed here. His mother has expressed immense appreciation of the Ronald McDonald House efforts and notes the following: "They are a home away from home & made us feel comfortable & safe under the circumstances. Such a truly amazing charity because the very last thing a parent wants to think or deal with while their child if fighting for their life is where you will stay or sleep since you're not allowed to sleep in the room while they are in intensive care!" Let us make a difference this Christmas and Holiday Season by contributing to a worthwhile cause! No donation is too big or too small, please give what you can and join us in celebrating life and good health in the new-coming year!
---
Donation History
January 5, 2018
Susan C donated $100
December 26, 2017
Paul M donated $200
December 25, 2017
Jason V donated $50
December 23, 2017
Greg C donated $100
December 22, 2017
Josip Z donated $50
December 21, 2017
Natasha G donated $25
December 20, 2017
Barbara D donated $50
December 20, 2017
Dominic G donated $100
December 19, 2017
Dave S donated $25
December 19, 2017
Natasha H donated $50
December 17, 2017
Diana C donated $50
December 14, 2017
Allstate Insurance Company donated $200
December 12, 2017
Isabel I donated $100
December 11, 2017
Lisa Jeffery donated $50
December 11, 2017
Michelle M donated $100
December 11, 2017
Mariana I donated $200
December 8, 2017
Peter D donated $50
December 8, 2017
Robert D donated $100
December 6, 2017
Marica D donated $50
December 4, 2017
Lisa J donated $50
December 4, 2017
Ivana M donated $25
December 4, 2017
MARY C donated $50
December 4, 2017
D M donated $90
December 3, 2017
Jelena R donated $50
December 3, 2017
Carmen K donated $50
December 3, 2017
Nada Z donated $25
December 2, 2017
Denny D donated $50
December 2, 2017
Sven N donated $50
December 2, 2017
Kristen P donated $100
December 2, 2017
Matilda B donated $50
December 2, 2017
Melissa B donated $100
December 2, 2017
Julie D donated $100
December 2, 2017
Alan K donated $50
December 2, 2017
Anonymous donated $25
December 1, 2017
Josip Z donated $100
December 1, 2017
Mara D donated $200
November 30, 2017
Mike B donated $200
November 30, 2017
Barbara F donated $25
November 29, 2017
Vince C donated $100
November 29, 2017
Helen G donated $50
November 29, 2017
Stacy A donated $25
November 29, 2017
Vince D donated $50
November 29, 2017
Andrej L donated $200
November 28, 2017
DAMINDRA K donated $100
November 28, 2017
NicoleSteve M donated $100
November 28, 2017
kathleen b donated $25
November 28, 2017
Anthony F donated $76
November 28, 2017
matthew c donated $25
November 28, 2017
Ban Business Services Inc. donated $500
November 28, 2017
Kresimir K donated $100
November 28, 2017
Zeljko B donated $300
November 27, 2017
John P donated $50
November 27, 2017
Antonija A donated $50
November 27, 2017
Emil M donated $50
November 27, 2017
Adam M donated $300
November 26, 2017
Steven B donated $100
November 26, 2017
Anton B donated $100
November 25, 2017
Marina B donated $100
November 25, 2017
Natalie H donated $25
November 25, 2017
Mina S donated $100
November 24, 2017
Gabriela B donated $100
November 24, 2017
Zora K donated $100