Brandon turns 11 and wants to give back!
I'm raising $2,500 for RMHC Canada.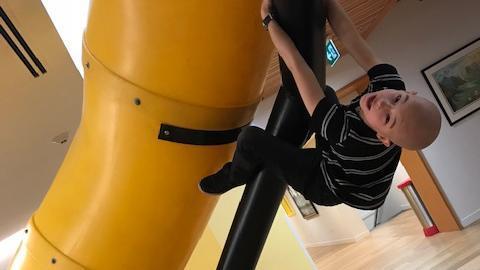 Ends: April 13, 2019
In true Brandon fashion, when I brought up the idea of a fundraiser instead of gifts for his birthday, he jumped at the chance to do something to give back to a place that has been an integral part of his recovery. Although he isn't having a big party we decided to take our fundraising to social media in hopes that friends and family will help him give back to a place that has been his second home and family. Over the last year we have made the trek to Vancouver Children's hospital 14 times and stayed at Ronald McDonald House around 11 of those times. Having a place like RMH to stay at on these trips for treatments and check ups has been an incredible way to connect with other families, feel safe and frankly keep our sanity. Being able to walk in and feel at home with kids playing and parents talking and sharing is such a relief in stressful times. If we didn't have RMH to stay at, time around his treatments would have been a much different experience for all of us. It really makes that much of a difference. Please help Brandon raise some money so more families like us can benefit from the wonderful staff and volunteers at RMH.
---
Donation History
March 26, 2019
Darrell P donated $124
March 25, 2019
Varitec Enterprises Ltd. donated $100
March 23, 2019
Tina S donated $27
March 22, 2019
Cache H donated $51
March 21, 2019
Cathy K donated $75
March 18, 2019
Shawn B donated $51
March 18, 2019
Erik J donated $100
March 18, 2019
Julia C donated $51
March 18, 2019
Bill C donated $27
March 18, 2019
Tina H donated $124
March 18, 2019
Brad H donated $50
March 18, 2019
Paul N donated $150
March 17, 2019
Anonymous donated $27
March 16, 2019
Anonymous donated $27
March 16, 2019
Kevin C donated $51
March 16, 2019
Kimberly H donated $27
March 16, 2019
Anonymous donated $27
March 15, 2019
Simon Z donated $30
March 15, 2019
Mikki K donated $200
March 15, 2019
Erik P donated $27
March 15, 2019
Anonymous donated $51
March 15, 2019
Kevin C donated $10
March 15, 2019
Valerie B donated $10
March 15, 2019
Anonymous donated $40
March 15, 2019
Mike D donated $100
March 14, 2019
Hal S donated $51
March 14, 2019
Jackie L donated $27
March 14, 2019
robert p donated $27
March 14, 2019
Paul S donated $27
March 14, 2019
John G donated $177
March 14, 2019
Pete G donated $51
March 14, 2019
Bradley B donated $51
March 14, 2019
Carolyn R donated $27
March 14, 2019
Kaitlyn C donated $177
March 14, 2019
Research Psychologists Press, Inc donated $200
March 14, 2019
Courtney H donated $51
March 14, 2019
Denisse W donated $51
March 14, 2019
Renee R donated $30