Chelsea's "An Outbreak of Burpees"
I'm raising $500 for RMHC Canada.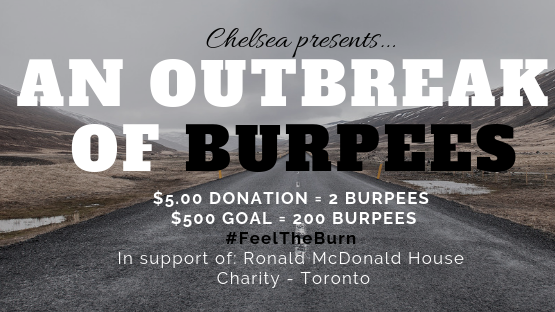 Ends: April 30, 2019
For many, accessibility is a major barrier towards receiving adequate health care and currently 65% of Canadians live outside a city with a children's hospital therefore requiring them to travel if their child becomes seriously sick or injured. The Ronald McDonald House Charity provides families a home away from home for families to stay near the hospital while their child is receiving care. Between March 2019 and the end of April 2019 I am pledging to raise $500.00 towards the Toronto chapter of RMHC in hopes to provide more opportunities for families to be close to their children during their care. For every $5.00 raised, I will do 2 burpees, filmed and posted, with an ultimate goal of $500.00 (200 burpees). The cost to accommodate one family per night at a Ronald McDonald House is $155.00, but with the help of donations families are only required to contribute $15.00 nightly for accommodations for up to six family members. Please help me reach my goal and bring families from 55+ kilometers away to just 450 meters away from their sick child.
---
Donation History
March 30, 2019
Tanja P donated $27
March 29, 2019
Maria G donated $20
March 27, 2019
Manica P donated $100
March 26, 2019
Lella M donated $51
March 8, 2019
Irene S donated $100
March 6, 2019
Sylvia K donated $100
March 6, 2019
Carolyn R donated $10
March 6, 2019
Sarah H donated $20
March 4, 2019
Daniel B donated $5
March 4, 2019
Shannon C donated $51
February 25, 2019
Breanne H donated $27
February 21, 2019
Dennis G donated $51