I'm raising $3,000 for RMHC Canada.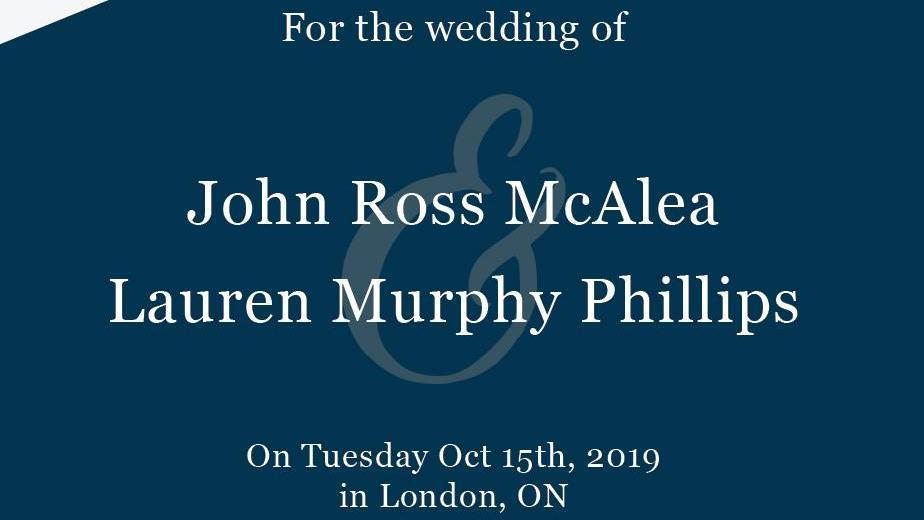 Ends: October 16, 2019
John and Lauren are fortunate enough to be building the rest of their lives together, but they both know that their relationship wouldn't have been possible without the help of the Ronald McDonald House Charities. Supporting Lauren and her family through her premature birth and a later facial surgery, as well as becoming her first place of employment, the Ronald McDonald House Charities will always be Lauren's home away from home. With his family of 7 (and even larger extended family), John also knows how much it means to have your siblings and parents supporting you through difficult times, bringing laughter and joy to those moments when everything else is out of your control. He thanks RMHC for providing families like Lauren's a place to grow and heal in times of distress. John and Lauren will strive throughout their marriage to make their home as welcoming, comforting and safe as RMHC. They will remind themselves that there is always another family just like them that needs the support of RMHC and so, will contribute to the RMHC mission and vision throughout their lives.
---
Donation History
October 14, 2019
Adrian V donated $250
October 14, 2019
Holly K donated $51
October 13, 2019
BEandSJ Z donated $180
October 10, 2019
Patrick P donated $124
September 14, 2019
Anonymous donated $124