Peach Festival Parking and Refreshment Stand 2018
I'm raising $200 for RMHC Canada.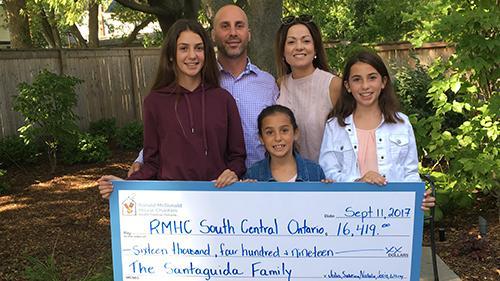 Ends: September 30, 2018
The Santaguida Family of Winona Ontario is continuing an annual fundraiser for the Ronald McDonald House South Central during this years Winona Peach Festival. During the festival hours from August 24-26 the family allows parking by donation on their property just steps away from the Winona Peach Festival entrance on Barton Street, west of Fifty Road. Sisters Julia 15, Natalie 12 and Sabrina 9 will also sell refreshments and snacks to raise funds for the cause. The Santaguida's were inspired to give back to Ronald McDonald House South Central after the family used the family room located on the third floor at McMaster Hospital. Sabrina spent time at Mac Kids in 2014, undergoing successful surgery to remove a brain tumor. She enjoys a healthy and active life.
Event Details
August 24, 2018 | 03:00 pm
1360 Barton
Winona ON L8E5L1
Canada
---
Donation History
September 11, 2018
George C donated $200
September 5, 2018
Brown Lion Tax Professional Corporation donated $177
September 4, 2018
G. F. MACHINE SHOP LTD. donated $100
September 4, 2018
Mark M donated $100
August 31, 2018
Marcie D donated $50
August 28, 2018
Anonymous donated $177
August 28, 2018
Kinequip donated $177
August 28, 2018
Lucia V donated $50
August 27, 2018
M D donated $25
August 27, 2018
Arlene C donated $50
August 27, 2018
A B donated $50
August 27, 2018
Antonietta T donated $150
August 27, 2018
Anonymous donated $50
August 27, 2018
Anonymous donated $50
August 27, 2018
Edward D donated $177
August 26, 2018
Guido R donated $25
August 26, 2018
M T donated $75
August 26, 2018
D T donated $25
August 26, 2018
Soulla F donated $177
August 25, 2018
BobBrenda P donated $25
August 25, 2018
PAUL G donated $50
August 24, 2018
AdeleCarinaGabriella D donated $200
August 24, 2018
D R donated $200
August 23, 2018
Kim A donated $50
August 23, 2018
ELECTRA-TECH MANUFACTURING donated $250
August 23, 2018
Christine T donated $50
August 23, 2018
Lisa T donated $50
August 21, 2018
Daniela Z donated $100
August 21, 2018
FelicePaula M donated $100
August 21, 2018
Rose C donated $25
August 18, 2018
SueFontana F donated $200
August 18, 2018
Aruni R donated $200
August 14, 2018
Vince S donated $50
August 14, 2018
Robert S donated $50
August 14, 2018
Marianne F donated $50
August 14, 2018
Nadine M donated $25
August 14, 2018
Grace U donated $100
August 13, 2018
Iole M donated $25
August 10, 2018
Julie G donated $25
August 9, 2018
Julie D donated $100
August 9, 2018
Felina C donated $200
August 8, 2018
Marilu D donated $177
August 7, 2018
Hadrian donated $1000
August 7, 2018
MARISA C donated $25
August 7, 2018
Susie O donated $100
August 7, 2018
Kylie B donated $25
August 1, 2018
Eugene M donated $100
July 31, 2018
Jessica O donated $25
July 30, 2018
Anonymous donated $177