Harlow "Wild One" Sharpe's First Birthday
I'm raising $1,000 for RMHC Alberta, Edmonton House.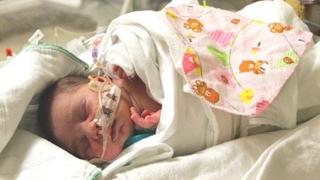 Ends: March 8, 2020
When a child gets ill, the stress on a family is devastating. Not only because you are scared to death for your kid but because every other aspect of life doesn't pause. RMHC offers a place for these families to live while they are miles from home, not only do they supply the basic necessities of life for these families. They have also created the most incredible community of support, helping families to find glimpses of joy while they undergo what could be the worst times of their lives. We were so fortunate that Harlow's case was short lived. Some of these families are away from their homes for months and years. During our stay at Ronald McDonald house in Edmonton we were absolutely humbled by the caliber of people who take their time to not only run the facility but cook meals, drive families to and from the hospital, organize events and offer support to the whole family in countless ways. They are volunteer run. This year for Harlow's Birthday we have chosen to pay our gratitude forward to the families at RMHC.
Event Details
March 07, 2020 | 02:00 pm
16 Walgrove Rise SE
Calgary AB T2X 4E6
Canada
---
Donation History
March 7, 2020
Anonymous donated $27
March 7, 2020
Rose S donated $50
March 7, 2020
Portia A donated $35
March 7, 2020
Lori J donated $27
March 7, 2020
Dana H donated $51
March 6, 2020
Tayte H donated $50
March 4, 2020
Brynn D donated $200
February 26, 2020
Carey H donated $200
February 12, 2020
Enerplus Corporation donated $25
February 11, 2020
Renee H donated $25
February 9, 2020
MJ M donated $100
February 8, 2020
Anonymous donated $150
February 5, 2020
Brooke H donated $150
February 5, 2020
Regan D donated $51