RMH Fundraiser @ Rebecca & RMTs, Yoga & Kids Play
I'm raising $1,000 for RMHC Canada.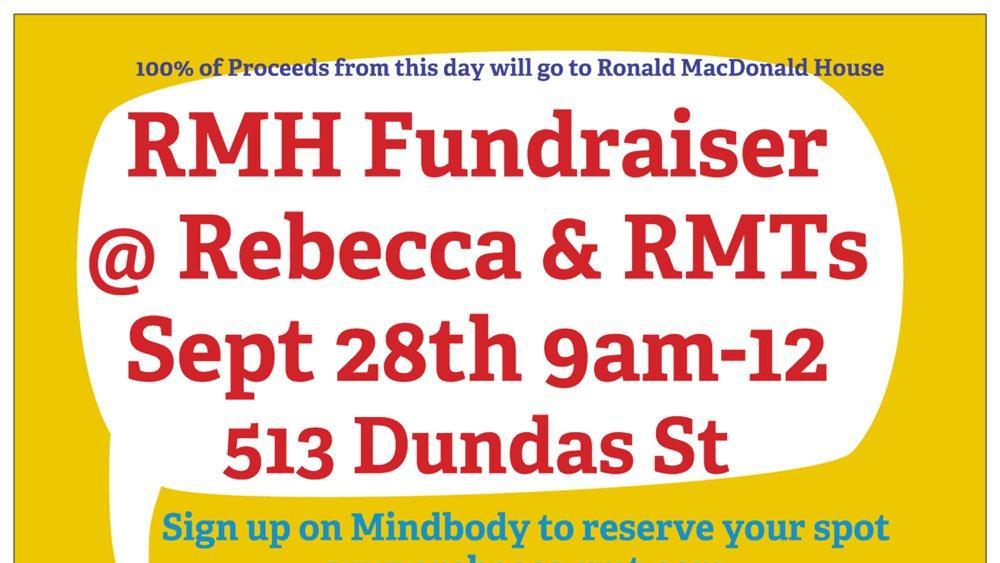 Ends: September 30, 2019
My name is Rebecca and I own a Registered Massage therapy clinic and Yoga/Pilates studio. I have 2 young children that I was fortunate enough to not need the services of the RMHC however I have friends, family and clients have had to use it and its important to keep the support of these services going. The help this service gives the families in need is amazing and gives hope and comfort to the families who need it and are able to use it. Having a sick child and not being close to them can be hard both mentally and financially and being able to be close to them and not worrying about the added expenses is a huge relief. I have posted some stories in a facebook group from people in my community of Woodstock, Ontario who have been helped and I have created a fundraiser at my office to help raise money and awareness of this wonderful house.
Event Details
September 28, 2019 | 09:00 am
513 Dundas St
Woodstock ON N4S 1C3
Canada
---
Donation History
October 1, 2019
Rebecca k donated $27
September 29, 2019
Jennifer Pullen - ENJO Canada donated $27
September 29, 2019
Rebecca Kitchen, RMT donated $500