Finlayson Hospitality Partners 2019 McHappy Day Campaign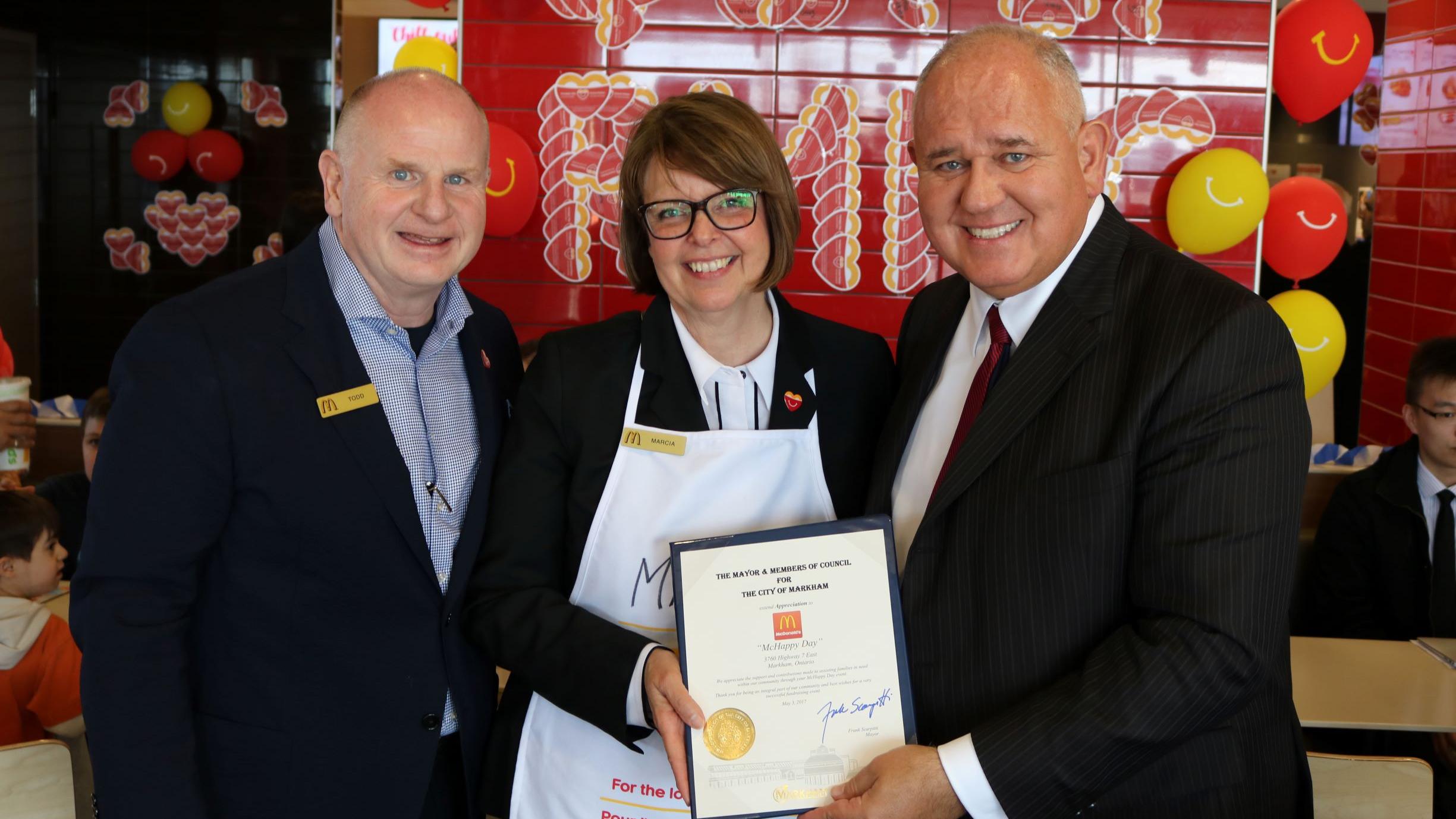 Together we are raising $120,000 for RMHC Canada.
Ends: May 31, 2019
The wonderful McHappy Day fundraising team at Finlayson Hospitality Partners is in full swing for their McHappy Day 2019 campaign in support of the Markham Stouffville Hospital The goal for the Fabulous 15 community outreach team is $120,000 with another $40,000 expected to be generated through restaurant activity before, and on, McHappy Day 2019. To learn more about this incredible facility and Ronald McDonald House Charities in general, please click on our short video below. Your contribution to the 2019 campaign will ensure the vitality of this tremendous service to families in your community. Thank you, Todd and Marcia Finlayson Owner/Operators McDonald's Restaurants - York Region Finlayson Hospitality Partners Inc.
---
Donation History
June 17, 2019
Violet H donated $100
June 3, 2019
John Hurlburt donated $500
June 3, 2019
John M donated $375
June 3, 2019
Michael D donated $375
May 28, 2019
Imran K donated $51
May 17, 2019
Terri T donated $328
May 10, 2019
Rosanna L donated $100
May 9, 2019
Trinela C donated $200
May 9, 2019
SLM Corporation donated $500
May 9, 2019
Katherine H donated $100
May 8, 2019
David B donated $250
May 8, 2019
Nicole Z donated $328
May 1, 2019
Sara B donated $51
April 30, 2019
donated $328
April 30, 2019
Sherry F donated $51
April 28, 2019
Denise G donated $200
April 27, 2019
Adam F donated $150
April 27, 2019
Joanie S donated $150
April 27, 2019
Sharon Ramalho donated $200
April 16, 2019
Maureen S donated $300
April 15, 2019
Anonymous donated $100
April 11, 2019
rem l donated $100
April 10, 2019
Joanne M donated $100
April 10, 2019
Dominic R donated $51
April 10, 2019
Catherine E donated $50
April 10, 2019
John B donated $250
April 4, 2019
Pickering Square Dental donated $250
April 3, 2019
KC M donated $100
March 29, 2019
Dynamix Solutions Inc donated $500
March 28, 2019
Edward N donated $100
March 26, 2019
Jerry T donated $51
March 25, 2019
Carstar Markham donated $250
March 22, 2019
Trident Elevator donated $500
March 20, 2019
Anna C donated $100
March 20, 2019
C.K.E.S. 1987 Ltd. donated $328
March 20, 2019
McDonald s Restaurants of Canada Limited donated $2,500
March 18, 2019
DeputyMayorDon H donated $124
March 18, 2019
Nick C donated $124
March 18, 2019
Bank of Montreal donated $100
March 11, 2019
Gerorge C donated $200
March 11, 2019
Lee G donated $200
March 11, 2019
Anonymous donated $1
March 10, 2019
Marylyn Joel Interior Design donated $100
March 10, 2019
Dave D donated $124
March 7, 2019
OSL Retail Services Inc donated $328
March 5, 2019
Marathon Refrigeration donated $328
February 20, 2019
Finlayson Hospitality Partners donated $2,020
February 17, 2019
Peter W donated $124
February 17, 2019
Todd F donated $10
November 27, 2018
Matthew C donated $500
Teams participating in this Fundraiser