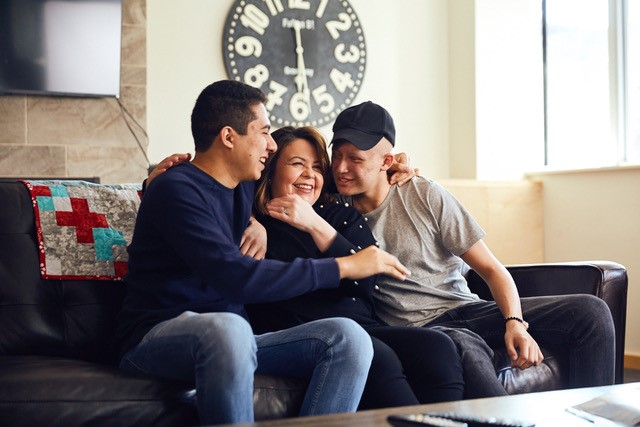 4 ways for families to have fun with tech toys and gaming devices
Real-life play is important for bonding and the good news is that virtual games can also have merit and shouldn't be dismissed as simply wasted tech time. "If you select the right ones," says parenting expert and family therapist Alyson Schafer, "gaming has the potential to teach similar skills as real-life play such as problem solving, strategizing, co-operation and creativity."
With busy schedules at work and at school, parents and children alike value their downtime to relax and unwind. And, according to the Ronald McDonald House (RMHC) Canada Family Togetherness Survey (Ipsos, 2019) parents who feel most satisfied with their family life are choosing to spend this downtime together, watching movies and videos (76%) as well as gaming (34%).

Real-life play is important for bonding and the good news is that virtual games can also have merit and shouldn't be dismissed as simply wasted tech time. "If you select the right ones," says parenting expert and family therapist Alyson Schafer, "gaming has the potential to teach similar skills as real-life play such as problem solving, strategizing, co-operation and creativity." Schafer suggests that parents consider the following tips to make tech time engaging and fun:

1. Choose games with a social component. These games are especially beneficial as families can game together as a shared experience just as playing board games does.

2. Watch, learn and comment. Kids want their parents to participate with them or watch them so they can show off their skills and accomplishments much like asking parents to watch a hockey game or dance performance. In moderation, this can be a positive interaction between parent and child.

3. Invite Grandma to play along. Your child may not talk for long on the phone with you or a grandparent, but if they are "playing" through an app that includes face-to-face conversations and things like silly filters, more connection is likely because it invites engagement.

4. Know the limits. Gaming can be isolating and problematic when children use small device and create a bubble around them, leaving the awareness of the social world around them and entering into the virtual space.

While spending time together is important to all families in Canada, family time becomes all the more precious when you have to travel far from home for your sick child's treatment. When families are together, they are stronger, more whole, able to deal with the emotional, intellectual and physical realities of their medical journey. Last year, RMHC kept 25,250 families together, close to their sick children being treated in the hospital.