Davaco CEO, Rick Davis, along with Jacqueline Priseman, Director of Operations and George Kalamvokis, Project Manager, visited RMHC Canada to present this donation in support of families staying at Canada's 14 Ronald McDonald Houses.

In addition to their generous donation, Davaco has also supported RMHC Canada through the roll out of our new RMHC Coin Box program across Canada, installing the new drive thru wall pass-thru coin box units in McDonald's restaurants on an expedited timeline.

Thank you Davaco for your wonderful partnership in support of Ronald McDonald Houses and the families of sick children in Canada. We are most grateful.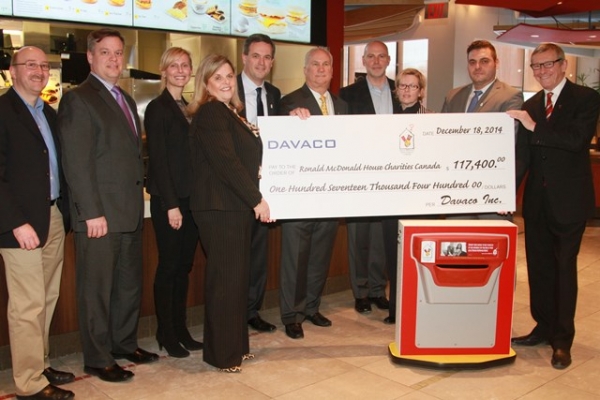 (Pictured above, left to right: Dave Simsons, VP Shared Services & IT, Jeff Topping, Sr. Manager Restaurant Development & Construction, Hope Bagozzi, Sr. Director Creative & Digital Marketing, Cathy Loblaw, RMHC President & CEO, Jeff McLean, RMHC Treasurer, Rick Davis, Davaco CEO, Richard Ellis, Sr. VP Communications Public Affairs & CSR, Jacqueline Priseman, Director of Operations, George Kalamvokis, Project Manager, John Betts President & CEO)